Low Chill Peaches
Phillip Rucks Citrus Nursery is an exclusive grower of Flordaguard Peach rootstock developed by the University of Florida for low chill peaches. Identifying a disease-resistant rootstock for peaches has always been a challenge until University of Florida developed Flordaguard rootstock. Flordaguard is a root-knot nematode resistant variety with winter chilling requirements between 100 and 300 chilling hours.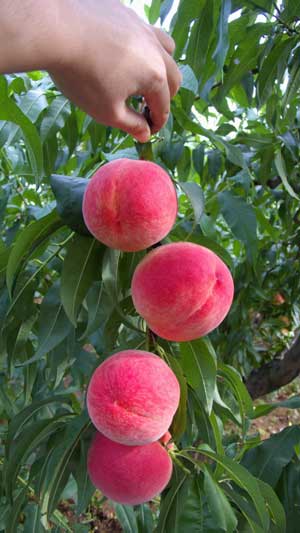 Flordaguard Peach Rootstock
Rootstocks have been used in many tree fruit systems to provide growth advantages or pest or disease resistance without affecting productivity and fruit quality. In Florida, peaches are grown on rootstocks that specifically provide pest resistance to the peach root-knot nematode, Although several root-knot nematode-resistant rootstocks are available for stone fruit grown in other locations and climates, 'Flordaguard' peach rootstock is currently recommended for stone fruit production in Florida. 'Flordaguard' is a low-chill peach. 'Flordaguard' trees often fruit in the second year, and they produce many self-fertile flower buds. Trees have long, whippy growth and branches may need additional support to bear heavy crop loads. Like most peaches, 'Flordaguard' is self-fertile. Although peaches self-pollinate, pollen from different varieties can fertilize 'Flordaguard'. 'Flordaguard'is a versatile rootstock propagated across many different varieties that make them an excellent choice from a shipping and marketing perspective.
PEACH CHART
VARIETY
FLESH TYPE
MATURITY TIME
CHILLING HOURS
FRUIT DEV. PERIOD (DAYS)
SIZE
OUTSIDE COLOR (Depends on sun exposure)
FLESH COLOR
PRINCE
Melting
March-April
150
78
2"
50 % +
Yellow
UF BEST
Non-Melting
March-April
100-150
80
2.5″-2.75″
80% Red
Yellow
UF SUN
Non-Melting
March-April
100-150
80
2.25″-2.5″
60% Red
Yellow
UF BEAUTY
Non-Melting
May
200
82
2.5″
80% Red
Yellow
TROPIC BEAUTY
Melting
April/May
150
89
2.25″-2.5″
60% Red
Yellow
UF SHARP
Non-Melting
May
300
94
2.25″-3″
60% Red
Yellow
FL BEST
Melting
May
250
82
2.5″
90% Red
Yellow
UF ONE
Non-Melting
April/May
250
95
2.5″-2.75″
60% Red
Yellow
UF GLO
Non-Melting
May
450
80
2.5″-2.75″
60% Red
White
UFO
Non-Melting
April
250
105
2.5″
70% Red
Yellow
FLORDA GLO
Melting
April/May
150
78
2.25″ -2.5″
60% Red
White
UF GEM
Non-Melting
April
100-150
80
2.5-2.75
90% Red
Yellow
Planting Guidelines
Space between Trees
Space Between Rows
Trees/Acre
10 ft.
20 ft.
218
15 ft.
20 ft.
145
15 ft.
15 ft.
194
20 ft.
20 ft.
109
Minimum # Trees Required for Delivery = 500
Contracts Require Deposit; Balance Due on Delivery. For Further information call us at 863-635-1948